SPANISH IN NATURE
España/Madrid
Cursos
General course
Intensive course
Exam preparation
Akademic course
Summer course
Tailor made course
Acerca de esta escuela
It is a small school, with capacity for up to 20 pupils, in groups from 6 to 8 pupils, this gives it a cozy and pleasant family environment. Where you could learn Spanish language, culture, customs, cooking... and enjoy our facilities (swimming pool, garden, vegetable garden, hens, library...) and environment, because we are in the wonderful GUADARRAMA NATIONAL PARK and only 30 minutes driving to Madrid city.
The members of our team have excellent qualifications, both personal and professional, for the work that they do. They have been chosen because of their dedication and attention to our students, ensuring that their stay is quite unforgettable, and having their welfare at heart.
The teachers are natives, they are professional Spanish teachers, they have a University degree in Spanish language or a Spanish teacher´s certificate
The methodology is different depending on the program. In Spanish camps the classes are very dynamic, in the teacher´s home the course consist in individual tuition and in Spanish in family, they interact with equal.
We believe that learning a language can't be confined to the classroom, therefore our Spanish school is the ideal place where we mix study and fun.
Dirección
España
EL BOALO Madrid
NAVALAPUERTA 1
Año en que fue fundada la escuela: 2014
Numero máximo de alumnos en la escuela: 20
Pagina web de la escuela: SPANISH IN NATURE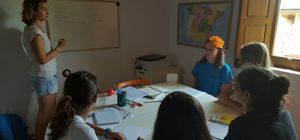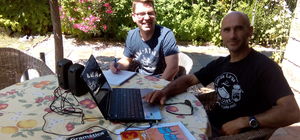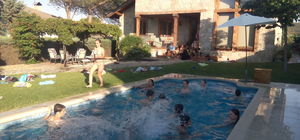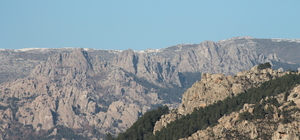 Ubicación de la escuela
Spanish in nature is located in El Boalo, Madrid. In the heart of Guadarrama National Park, and only 30 minutes drive to Madrid city. The Guadarrama Mountain range contains some ecologically valuable areas, located in the Community of Madrid. In this area or region there are other two parks: The Peñalara Natural Park (Parque Natural de la Cumbre, Circo y Lagunas de Peñalara) is a natural park in the northwest of the Community of Madrid, declared a natural park in June 1990.
The park is situated in the central zone of the Sierra de Guadarrama The reserve includes Peñalara's summit, the highest peak of the mountain system.
One of the most interesting elements of the reserve is the Peñalara cirque, created by a glaciar. It is located between the summit of Peñalara and the Younger Sister, on the eastern slope of both peaks. In the Park there are 20 small lakes of glacial origin in a relatively level area between 2000 and 2200 meters. La Pedriza Regional Park (Cuenca Alta del Manzanares Regional Park), which was created in the 1908s. The area covered by the Regional Park, the upper Manzanares River basin, was designated in 1992 as a Biosphere Reserve by UNESCO La Pedriza is a geological feature of great scenic and leisure interest. It is located on the southern slopes of the Guadarrama mountain range. It is one of the largest granite ranges of Europe and holds numerous peaks, rocky cliffs, streams and meadows, with the majestic Yelmo as reference.
Volver a los resultados