Brighton Language College
Reino Unido/Brighton
Cursos
General course
Intensive course
Exam preparation
Akademic course
Summer course
Tailor made course
Acerca de esta escuela
BLC's academic standards ensure that you get the optimal learning experience with our courses that have been developed to help you learn more effectively. With BLC's communicative approach to language training you acquire the essential skills & strategies to accomplish your goals. Our staff members are dedicated to helping you reach your targets and making the most of your stay with BLC and in Brighton.
Dirección
Reino Unido
BN1 1FG Brighton
Old Steine 12
Año en que fue fundada la escuela: 1996
Numero máximo de alumnos en la escuela: 500
Pagina web de la escuela: Brighton Language College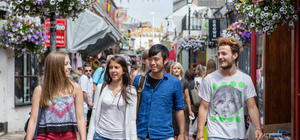 Ubicación de la escuela
Situated in the city centre opposite the Royal Pavilion and only 2 minutes from the beach, BLC is in a great location amongst the city's landmarks. You are in the heart of the city each day of your studies, meaning you have all the benefits of Brighton's superb restaurants, beaches, night life, shops, entertainment and unique lifestyle in the UK's trendiest resort city.
Volver a los resultados