Spaneasy
España/Madrid
Cursos
General course
Intensive course
Business course
Exam preparation
Acerca de esta escuela
In Spaneasy we are continuously interacting with the students to make them evolve in their learning in the shortest time possible. So, we focus on teaching grammar, reading, writing, listening and speaking through interactive activities such as games, videos, conversations and listening to music.
An unbeatable location. We are the most centric Spanish school in the capital, located in the very heart of Madrid, 1 minute away from Puerta del Sol.
A team of native teachers, very qualified and full of enthusiasm, who will make you learn Spanish and improve in a better way.
A task-based teaching method with a communicative approach, so that you can learn Spanish easily and quickly.
Modern and interactive facilities that will allow you to feel like home.
A dynamic student care team who will help you solving your doubts about Madrid.
Dirección
España
28014 Madrid
LAUDO FORMACION S.L. C/ Alcalá, 4 1st floor Left
Año en que fue fundada la escuela: 2009
Numero máximo de alumnos en la escuela: 40
Pagina web de la escuela: Spaneasy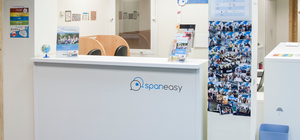 Volver a los resultados