Hispania, escuela de español
Spain/Valencia
Courses
General course
Intensive course
Business course
Exam preparation
Akademic course
Summer course
Tailor made course
About this language school
Hispania, escuela de español opened its doors in 2002. Since then it has constantly been growing in number of students and popularity, now being the most popular school in Valencia.
Although we grew fast, we never lost our homely and warm atmosphere. In Hispania, students will find a home where they can learn Spanish, learn about Spanish culture while making friends from around the world.
Address
Spain
46010 Valencia
Calle Bernat y Baldoví 11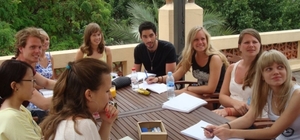 Hispania, escuela de español
Video presentation of school
About the location
Valencia is located on the Mediterranean coast of Spain and it constitutes one of the favourite destinations for international tourists, thanks to its mild weather, beautiful beaches, excellent food and its never-ending life, not only during the day, but also at night.
Our school is located in a beautiful Spanish vila, in a unique setting of the city of Valencia, in the University area. You will find Hispania next to the Rectorat of the University of Valencia and the Viveros Park. Hispania, escuela de español is just 5 minutes walking distance from the old town and Valencia's main shopping area, bars and cinemas.
Back to results