Cebu Languages ESL School
Philippines/Cebu City
Courses
General course
Business course
Exam preparation
About this language school
Cebu Languages ESL School is an English Center for students who want to learn English. This is the best and first American (born in the US) owned ESL school Established in 2009. We are located in Lapu-Lapu City Mactan Island, Cebu Philippines. Black Forest Learning Center Corporation is our parent company and a TESDA Accredited vocational education intuition. We offer all ESL study courses related to language improvement. Cambridge curriculum courses are perfect for beginner, intermediate, and advanced ESL students. We specialize in teaching English to adults as well as children. Our top priorities are students' safety, physical and mental health. Our staff is dedicated to provide realistic and measurable goals in developing appropriate English learning. Native speaking and Filipino instructors encourage ESL learners to concentrate on strengthening their skills in English (Listening, Reading, Speaking, and Writing). They simplify grammar, pronunciation, vocabulary range and usage. Classes are facilitated in mini and small groups. Group classes encouraging every student to interact by discussing opinions, respond to problems and convey their ideas confidently.
Lessons are instructed and supported by our Filipino and Native Speaking Instructors who are multi-certified to teach ESL learners. They follow the Communicative Language Teaching Methodology pattern for students. They are an excellent resource of English information. This information gives you a valuable first-hand global experience, realistic answers of uncertainties regarding cultural diversity and Western lifestyle of education and in workplace settings.
The school is conducive for learning with its sea-side location. The unpolluted air and tranquil classroom setting allows students to relax and learn effectively. Cebu Languages guarantees a healthy environment while navigating their way to perfect English aspirations. Our diverse and cultured student body allows you the chance to understand the empowerment of English communication.
Address
Philippines
6015 Cebu City
Hadsan Cove Resort Agus Road Mactan Island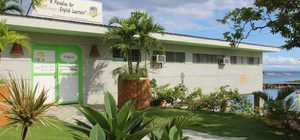 About the location
Cebu Langues ESL School and its seaside ESL Center location for ESL General English and Business English courses affords students needed relaxation time. Our study programs are taught by experienced Native English Speaking Instructors. While you are improving your English fluency and obtaining better than expected test exam scores, you can enjoy all of the fun in the sun activities right at school. There is no need for long travel times to find the fresh sea air and relaxation, its right here!
As you can see by the map we have direct access to our private beach and we are on the sea. If you are an avid water sports person, we have everything you could expect the Philippine sea to offer at our doorstep. Students that love to snorkel or scuba dive have only to walk outside after class and enjoy the rest of the afternoon. If you are wanting to learn to scuba we have several packages to fit the level of certification. Learn to dive in open water, caves, night time and deep water, so you can join the growing number of scuba divers and be apart of their circles.
Back to results