St Giles London Highgate
Vereinigtes Königreich/London
Kurse
Standardkurs
Intensivkurs
Businesskurs
Examensvorbereitung
Tailor made course
Über die Sprachschule
The school occupies a beautiful Edwardian building in the fashionable North London suburb of Highgate. Highgate is a green and prosperous area of London, with excellent transport connections to the centre of the city, which is only 20 minutes away. The local sports, shopping and leisure facilities are excellent and student accommodation is on average only 15-45 minutes away by bus or tube. Surrounded by its own quiet English garden, St Giles Highgate is ideal for learners looking for a peaceful and focused place of study, with lots of personal attention. The welcoming school combines a relaxed atmosphere with high quality teaching and high academic standards.
Adresse
Vereinigtes Königreich
N65QP London
Shepherds Hill 51
Gegründet: 1975
Maximale Anzahl an Studenten and der Sprachschule: 330
Webseite der Sprachschule: St Giles London Highgate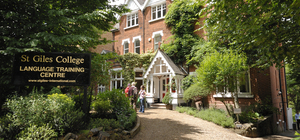 St Giles London Highgate
Videopräsentation
Lage der Sprachschule
Our London Highgate school offers students the chance to study in a beautiful, green and relaxed area, close to the excitement of central London.
Zurück zu den Ergebnissen