Spanish Ya Language School
Nicaragua/San Juan del Sur
Kurse
Standardkurs
Intensivkurs
Über die Sprachschule
Spanish Ya is your best choice to learn spanish while on vacation on a tropical paradise by the ocean. With more than 8 years of experience teaching Spanish as a second language, Spanish Ya Spanish School offers one-on-one classes to help you learn to use and expand your Spanish communication skills in a supportive environment and with your specific learning challenges.
Adresse
Nicaragua
11111 San Juan del Sur
Calle el Rio Escondido 1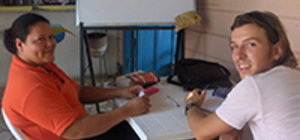 Lage der Sprachschule
We will be happy to make any transport arrangements for you; please ask us for our private transport service. If you're on a budget, you can also take a taxi to "Mercado Roberto Huembes" and take a public bus to Rivas. From there, you can catch another bus to San Juan del Sur. Or, you can catch an express bus from Managua direct to San Juan at 4pm.
Once you have arrived, the best choice of transportation is your feet. And our school is the only Spanish language school with the riverside location in San Juan del Sur. Please see the map for more references.
Zurück zu den Ergebnissen