DIE NEUE SCHULE
Deutschland/Berlin
Sprachen
German
English
French
Italian
Spanish
Kurse
Standardkurs
Intensivkurs
Examensvorbereitung
Akademischer Kurs
Tailor made course
Über die Sprachschule
DIE NEUE SCHULE has German courses running simultaneously and all year round in levels A1 through C2 of the Common European Framework. We offer different types of Intensive courses, One-on-One Tuition and Evening classes. Students with previous knowledge of German and avanced learners can begin their language courses any Monday. Courses for true beginners start on the first Monday of each month.
All our courses prepare for internationally recognized examinations, some of which may be taken directly at our school. Our teachers are university graduates with extensive experience in group and individual instruction. As far as study and test-taking strategies are concerned, the head of our German department will be glad to assist you with advice and support.
We use teaching materials that are designed to encourage you to speak German. The teaching method is communicative. Grammatical exercises, reading and writing are important components of every course, but they are not ends in themselves. The goal of the individual elements is always to improve the students' ability to actively communicate through speaking.
You are welcome to join our excellent leisure time program. Each week, we offer a program with several activities such as city walks, visits of museums and galleries and full-day weekend excursions. Please note that most of the weekday excursion are free of charge. All activities are guided by one of our German teachers and are a great opportunity to meet other students.
Throughout your stay in our school, we can provide you with two possibilities for lodging. You may stay either in one of our carefully selected host families or in our fully-furnished apartment.
The office staff speak English, Spanish, French, Italian and, of course, German. You are welcome to contact us anytime!
Adresse
Deutschland
10713 Berlin
Gieselerstraße 30a
Gegründet: 1984
Maximale Anzahl an Studenten and der Sprachschule: 250
Webseite der Sprachschule: DIE NEUE SCHULE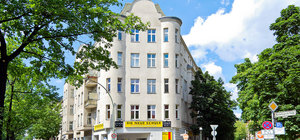 DIE NEUE SCHULE
Videopräsentation
Lage der Sprachschule
DIE NEUE SCHULE, situated in the central district Berlin-Wilmersdorf, is located in a quiet residential area. A leisurely 15-minute walk takes you to the western city centre, the Kurfürstendamm and its side streets, where numerous cafes, galleries and exclusive boutiques are to be found. Two underground stations and several bus routes are less than 5 minutes away from the school and take you to any other part of Berlin.
Zurück zu den Ergebnissen