Genki Japanese and Culture School
Japan/Fukuoka
Kurse
Standardkurs
Intensivkurs
Onlinekurs
Sommerkurs
Über die Sprachschule
GenkiJACS is a revolutionary Japanese language school. We believe that you cannot fully understand the Japanese language without also understanding Japanese culture. Therefore, lessons focus not just on what to say, but on when, how and why to say it. We adapt our lessons to the needs of each student, while keeping them practical and interesting, to give you the skills and confi dence for success. A full schedule of events and activities, both at school and outside it, lets you master what you learn in class. Our experienced and friendly teachers and staff provide individual attention and care. And our great locations in the center of both Fukuoka and Tokyo allow you to experience Japan the way you want it. These are the reasons so many people study with us again and again, and why we were voted for the last four years running as one of the world's top language schools!
Adresse
Japan
810-0041 Fukuoka
Grand Building, 2-9-5 Daimyo, Chuuouku 2nd floor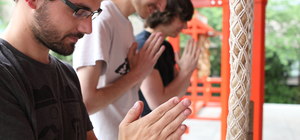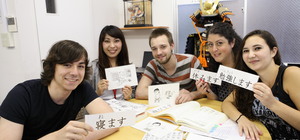 Genki Japanese and Culture School
Videopräsentation
Lage der Sprachschule
Fukuoka City is the largest city in Kyushu, South-Western Japan. Its moderate climate, beautiful scenery and great location have made it popular with travelers worldwide. Fukuoka was ranked as the best city in Asia by Asiaweek magazine for 1997, 1999 and 2000, because of its cleanliness, safety, excellent amenities and all-round good quality of life. It has been ranked by Monocle Magazine as one of the top 20 most liveable cities in the world for the last 5 years, and number 1 for shopping! Close to both mainland China and Korea, it is a link to the rest of Asia and beyond. Summers are warm, winters mild, and the people friendly. Fukuoka's renowned cuisine and warm-hearted people will make your stay here a pleasure. The city is full of wonderful restaurants, and its hard to visit an izakaya without making new friends. In addition, Fukuoka is bursting with culture: its many art galleries, museums, and theaters will give you your fi ll of the Japanese arts, while the nightlife is some of the best in the country. Fukuoka is also unparalleled in convenience - the international airport is 10 minutes from the school and city center by subway, and the shinkansen (bullet train) station is even closer.
Zurück zu den Ergebnissen