German Language School Dresden
Deutschland/Dresden
Kurse
Standardkurs
Intensivkurs
Businesskurs
Examensvorbereitung
Akademischer Kurs
Sommerkurs
Tailor made course
Über die Sprachschule
Our mission is to smooth your way to the German language and to lead you to your personal learning goals by profound and true-to-life tuition. In this frame you will also receive help and assistance to find your way in your new surroundings and you will become familiarized with the German and in particular with the Saxon lifestyle. According to our motto: "Learning by Discovering" our participants enjoy creative tuition in individual furnished classrooms fully equipped with modern multimedia devices and free internet access. The school's warm and comfortable atmosphere gives you a sense of well-being right from the start. A very important condition for a positive learning experience. We provide small group tuition (4 - 8 particiants). Every student is demanded and supported equally. The individual supervision of every single course participant is the highest principle of the DSD. The red thread of our lessons are CEFR-certified textbooks (textbooks, exercise books, audio-CD). This basis for our lessons is optimally supplemented with interactive learning software (language lab, orthography, grammar tests) which can be used by language students after the classes. At the DSD one does not consume but one communicates. The language students help creating their own lessons by dialogues, presentations, short recitations, etc. This way, speaking inhibitions are reduced and the articulateness in the German language is developed right from the first lesson.
Adresse
Deutschland
01099 Dresden
Martin-Luther-Platz 7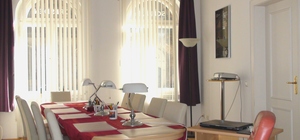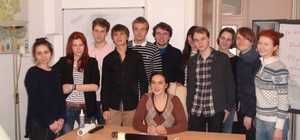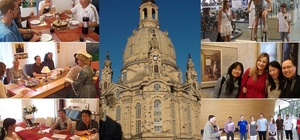 German Language School Dresden
Videopräsentation
Lage der Sprachschule
The Deutsche Sprachschule Dresden is situated in the bright and multicoloured heart of the famous area of arts and trades in Dresden, often called "Montmartre of Dresden". Hereabouts you can find more than 130 sights (places of interest), as well as boutiques, galleries, studios and stores to any taste. The historic center of the old city is within an easy short walk over the picturesque bridges across the Elbe or a minute ride by bus or by tram.
Zurück zu den Ergebnissen