"ALEXANDER DER GROSSE"
Greece/Athen
Courses
General course
Intensive course
Business course
Exam preparation
Summer course
Tailor made course
About this language school
Schule der Griechischen Sprache & Kultur
Address
Greece
10682 Athen
Rethymnou 2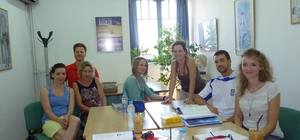 a spot from the greek language lesson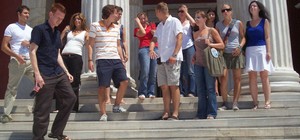 Museum visit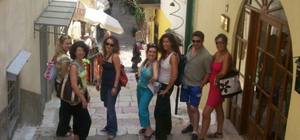 walk in plaka
About the location
Unsere Zentralfiliale befindet sich in Athen, die Hauptstadt von Griechenland mit fast 4.000.000 Einwohnern. Die Schule hat auch Filiale in Thessaloniki und Chania, Kreta.
Sie liegt in der Stadtmitte, neben dem Archäologischen Museum, 50m vom Park Pedio tou Areos, 200m von der nächsten U-Bahn Station und in der Nähe von mehreren Bus- und Strassenbahn-Anfangshaltestellen.
Athen hat immer seine Reize, unabhängig vom Wochentag und Jahreszeit. Der Auswahl an Tätigkeiten für unsere Gäste und Studenten ist groß, von Museumsbesuchen und Spaziergängen auf der Akropolis und dem altgriechischen Marktplatz bis zum Kaffeetrinken, Essen und Vergnügen in modernen Restaurants, Tavernen und Bars bis spät in der Nacht.
Back to results